Stage V emissions reductions for engine above 1 MW for customer in Austria
25 April, 2023
Our company was involved in a project to reduce emissions above the Stage V standard on an engine above 1 MW for a customer from Austria. We supplied DPF and SCR reactors with catalytic components, a urea dosing system, and a mixing pipe.
We performed numerical calculations for the blending of urea with the exhaust gas. The maximum urea flow rate, target NOx reduction, and exhaust gas pressure drop were determined based on the data provided.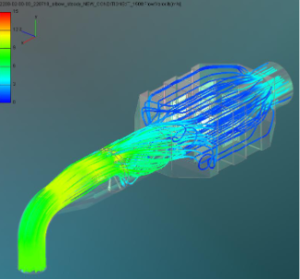 As shown in the simulation above, an elbow in the exhaust gas system leads the flow along the upper wall. It was thus necessary to position the nozzles and mixer in such a way as to neutralize the effect of the change in flow position on urea mixing and possible urea deposits.
We have professional measuring equipment at our disposal so we were able to confirm the calculations in reality. We achieved NOx reductions in excess of 95%!
The engine's operating temperature range allowed us to use passive regeneration with NO2. In addition, we achieved a high reduction in CO and HC. We used oxidation catalysts for this application and placed them in the same rector as the DPF filters. In this case, the exhaust gas back pressure is controlled by a pressure sensor.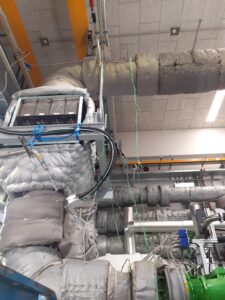 Contact us
Our team is happy to answer any questions.